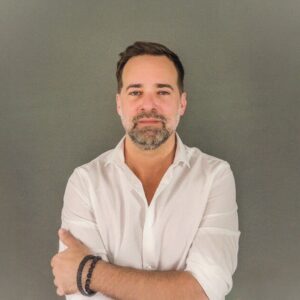 Dirk Schwindenhammer (*1971) is a philosopher and educational scientist.
He studied Digital Education at the University of Edinburgh and Primary School Education at Humboldt- University Berlin. At University College London (UCL) he read European Literature and philosophy at Friedrich-Wilhelm University Bonn.
His philosophy deals with the biological evolutionary realities of humankind, which are the foundation to his philosophy. This is the philosophy of Essencialism.
Before working as a philosopher he was working as Editor in Chief for MTV, where he developed a range of internationally succesful formats. After suffering from a severe depression, he returned to his study of and work with philosophy.
Dirk Schwindenhammer is a fan of German football club SC Freiburg, with his then band The Sealevel he toured as support to one of his favourite bands Teenage Fanclub.
Dirk Schwindenhammer lives and works in Berlin He is father to two daughters,